Zuri's Wedding Dress Shape Guide
If you've already said yes to marrying the love of your life, now it's time to begin your search for the perfect dress. Wedding dress shopping can be an exciting, whimsical experience, but not knowing where to start can sometimes become overwhelming. Going into your first wedding dress appointment with an idea of what you're looking for can help make the process more enjoyable. Although, we always recommend keeping an open mind, doing a little research beforehand can be extremely helpful. We've compiled a wedding dress shape guide to help you learn more about the most popular silhouettes and decide which one might be right for you.
A-Line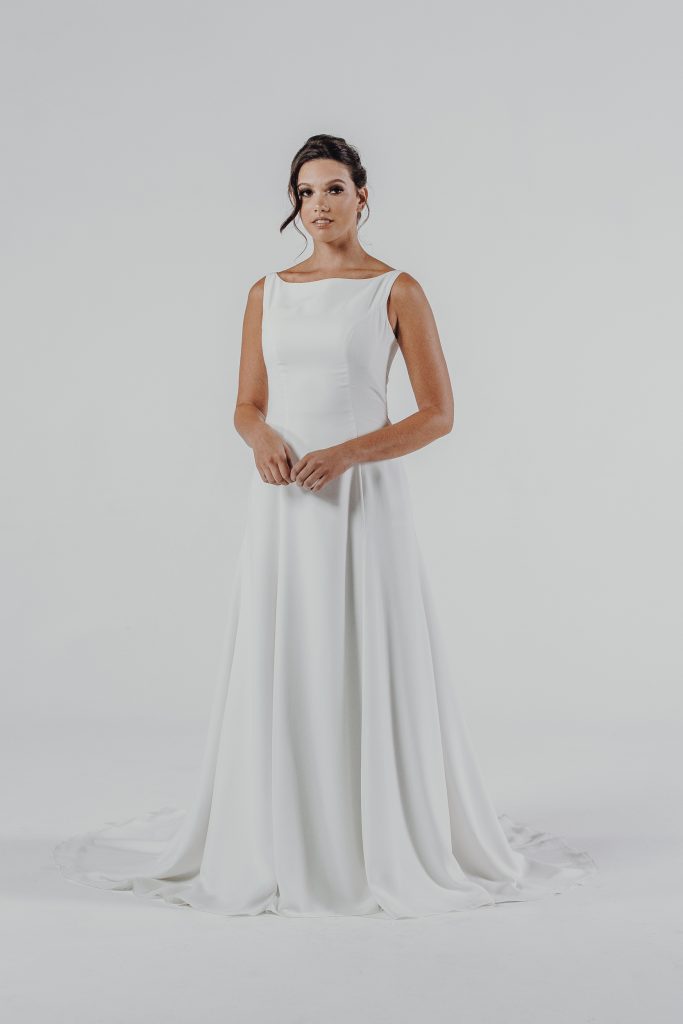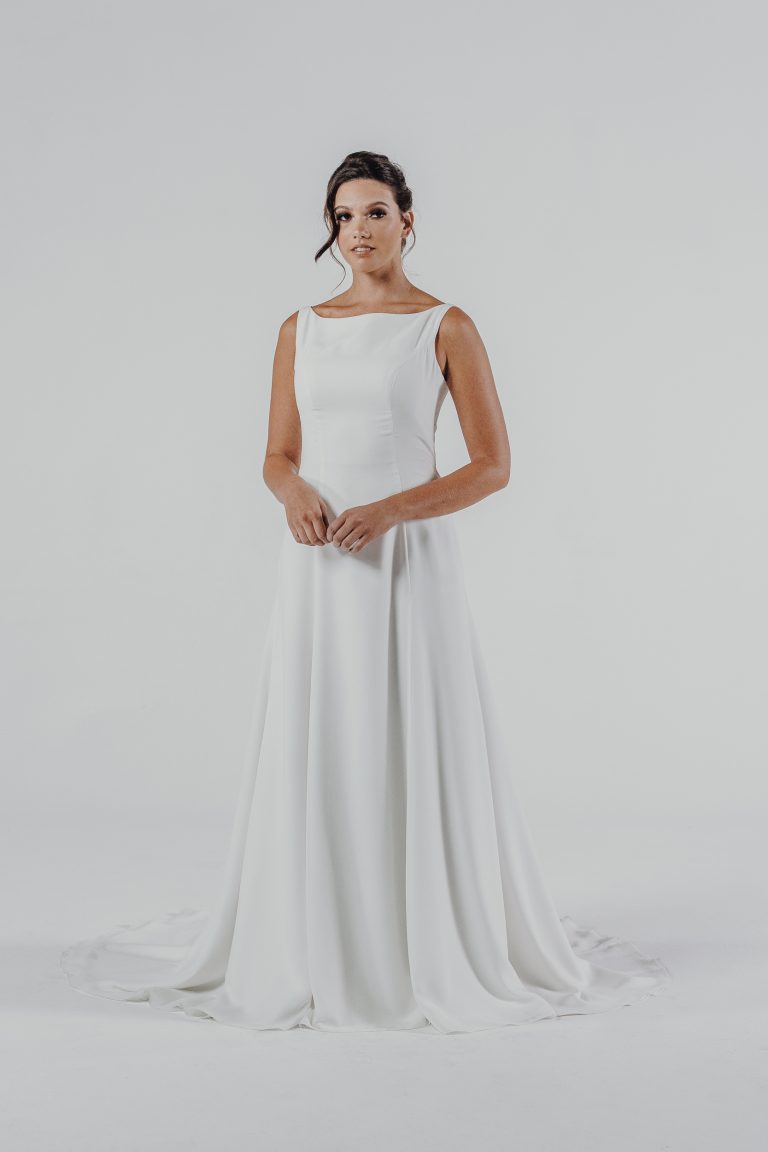 First up on the list is the timeless A-Line style. This classic and flattering silhouette perfectly suits almost every body type, making it one of the most popular styles. It's more lightweight and typically has less fabric than the ballgown style but has some similar elements. Both dresses have long flowy skirts, but the A-line skirt typically starts at or slightly below the waist and gradually flares. This dress gets its name from its elongated A-shape and is known for its versatility. The breezy skirt allows movement and is less likely to constrict movement than some of the other well-known wedding dress styles. The A-line silhouette, like the gown shown above from our Everlasting Collection, is best for hourglass, pear-shaped, and slender body types as it highlights the upper body and waist and covers the hips.
Trumpet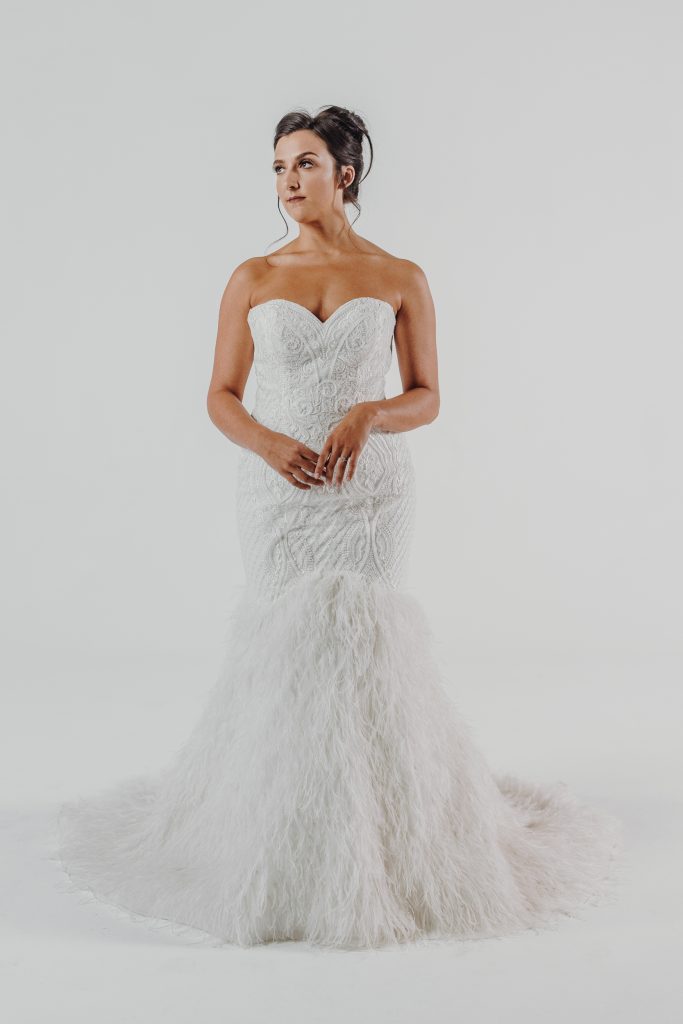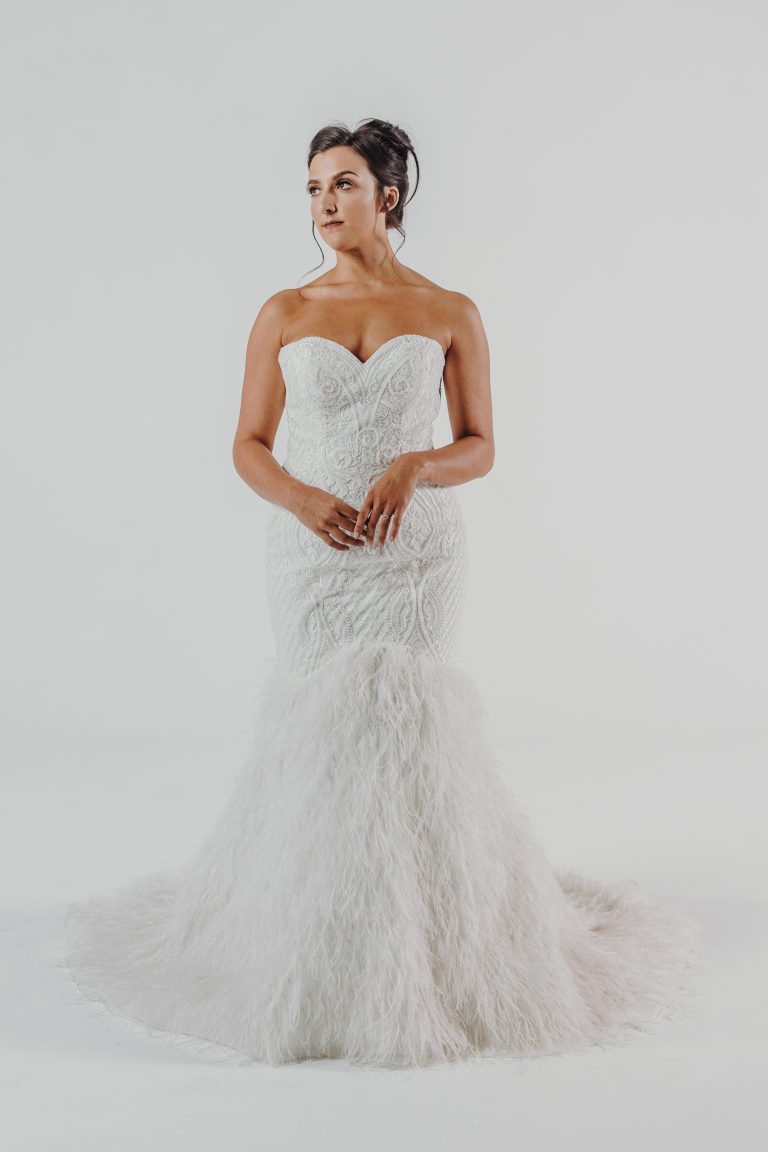 The trumpet wedding gown, also known as "fit and flare," is a form-fitting dress that flares from the mid-thigh down. Trumpet gowns have a more gradual flare and are perfect for brides with an apple shape or hourglass figure. Due to its gradual flare, a trumpet wedding gown silhouette may be a bit easier to move around in than a mermaid-style wedding dress. The bottom of the dress is typically embellished with feathers, beads, or lace detailing, and any length of the train. A trumpet wedding gown can be extremely flattering and sexy on the right body shape by accentuating curves. You can browse more dresses like this one by visiting our Timeless Collection page.
Mermaid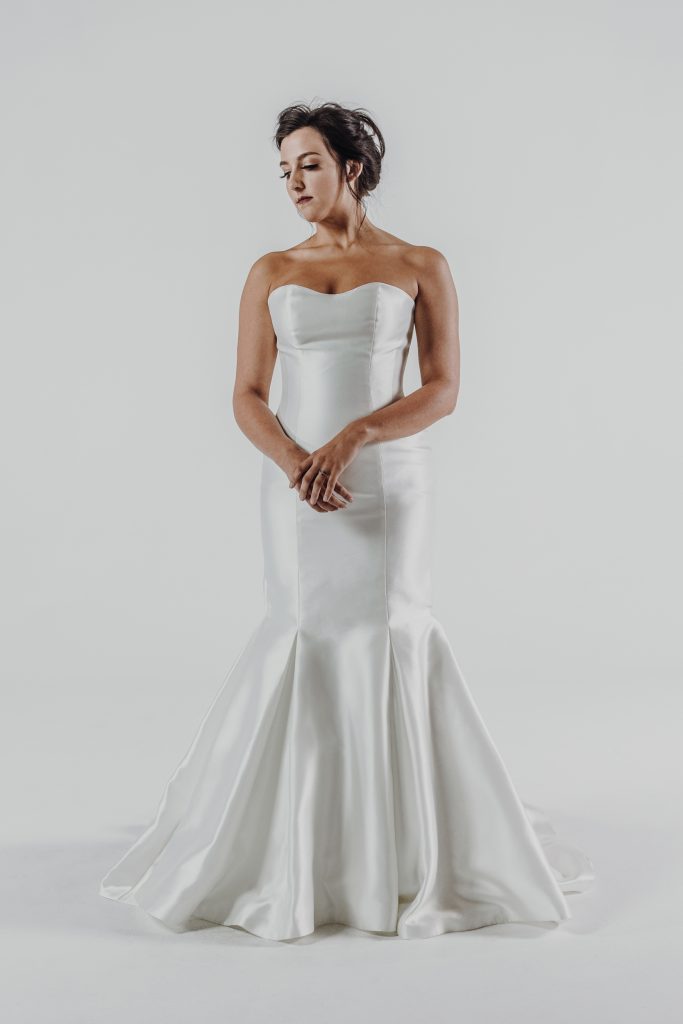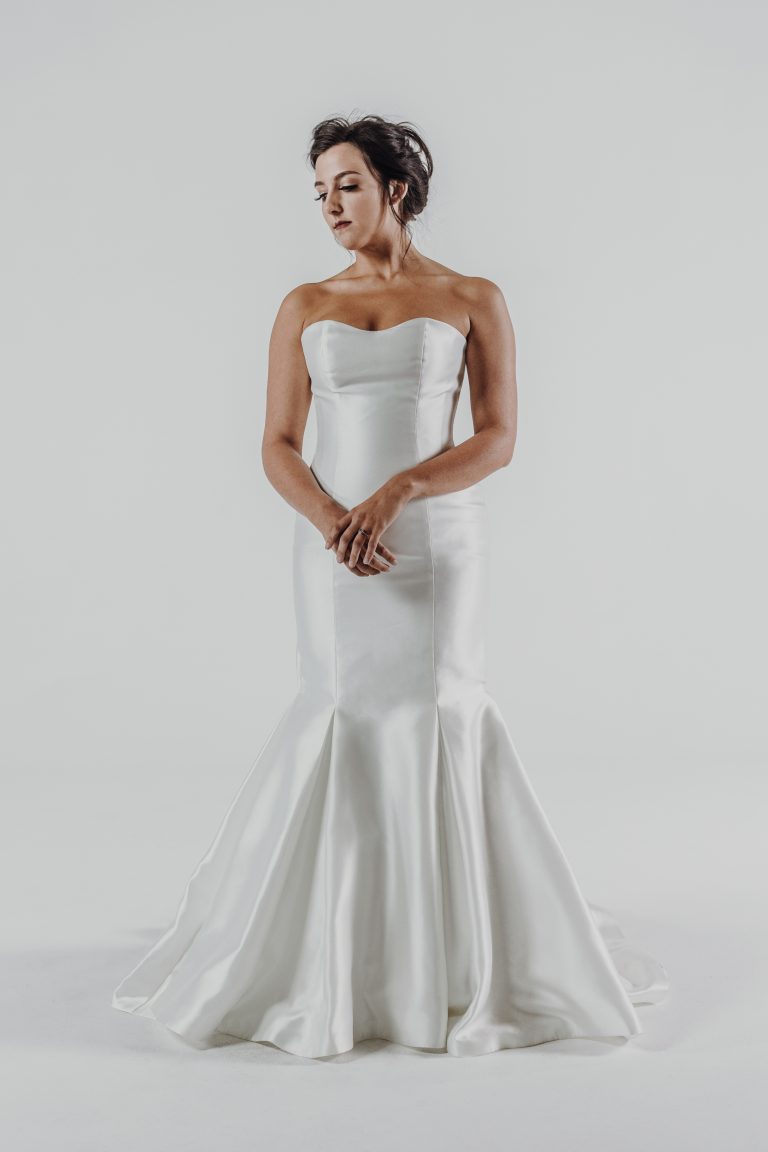 The mermaid silhouette is also characterized by a fitted bodice like the trumpet style but dramatically flares at or below the knee creating that coveted mermaid look. The tail of the dress can feature feathers, beads, or lace detailing, and any length of the train. The elegant mermaid style wedding dress, like the gown shown above from our Timeless Collection, emphasizes the waist and hips making it a great choice for apple-shaped or hourglass body types. Depending on the flare of the mermaid-style wedding dress, you should make sure you are able to move freely and sit down easily.
Ball Gown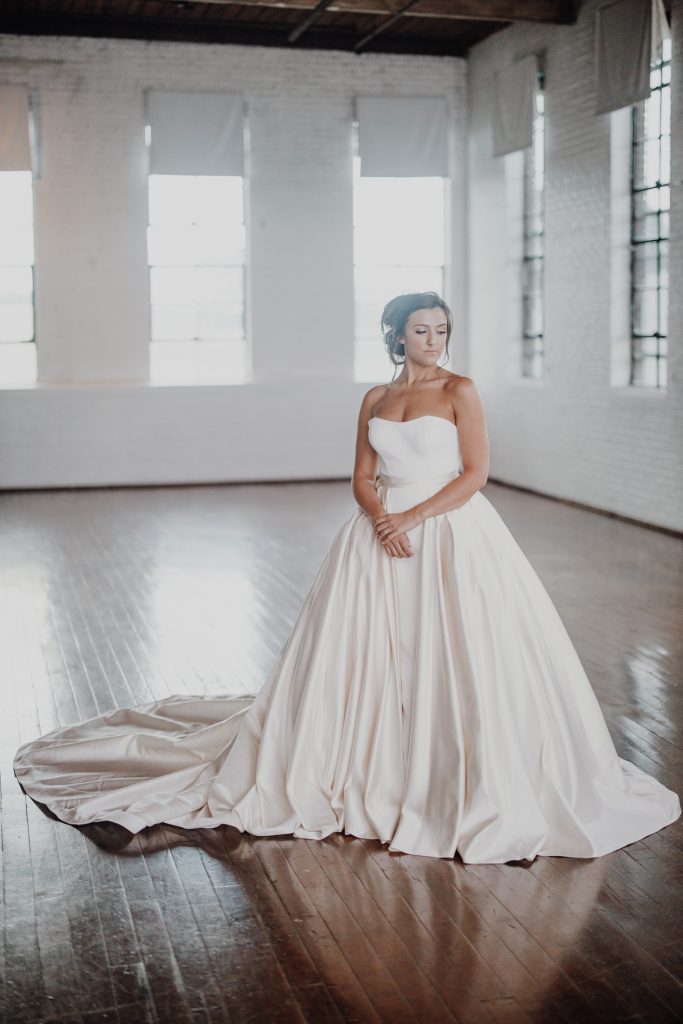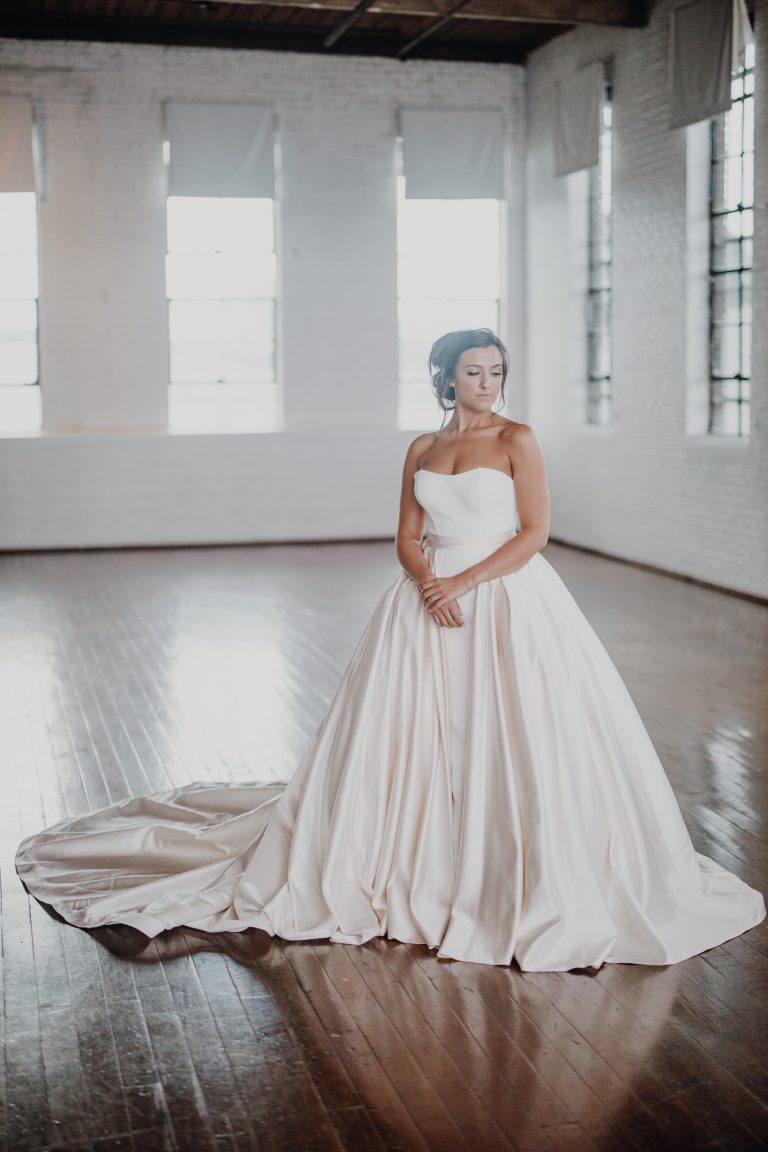 The ball gown is the perfect dress shape for the bride who is going for that fairy tale-esque look. A ballgown, like this one from our Timeless Collection, is an excellent choice for pear-shaped and slender brides. However, much like the A-line style, this dress is flattering for almost every body type. It accentuates the waist and covers the hips with a large and luxurious skirt. What sets this style apart from the A-line gown, is its dramatic and over-the-top skirt that is typically made from several layers of fabric. With such a glamorous dress, you are sure to wow your guests, but also remember when wearing so much fabric, you may require assistance with stairs or the restroom.
Sheath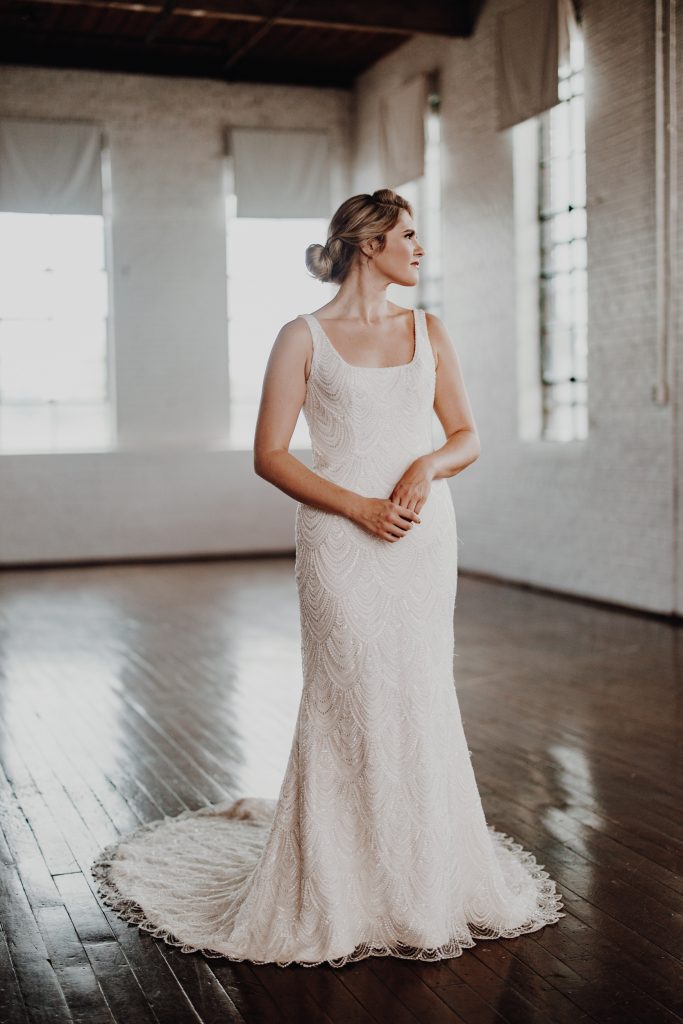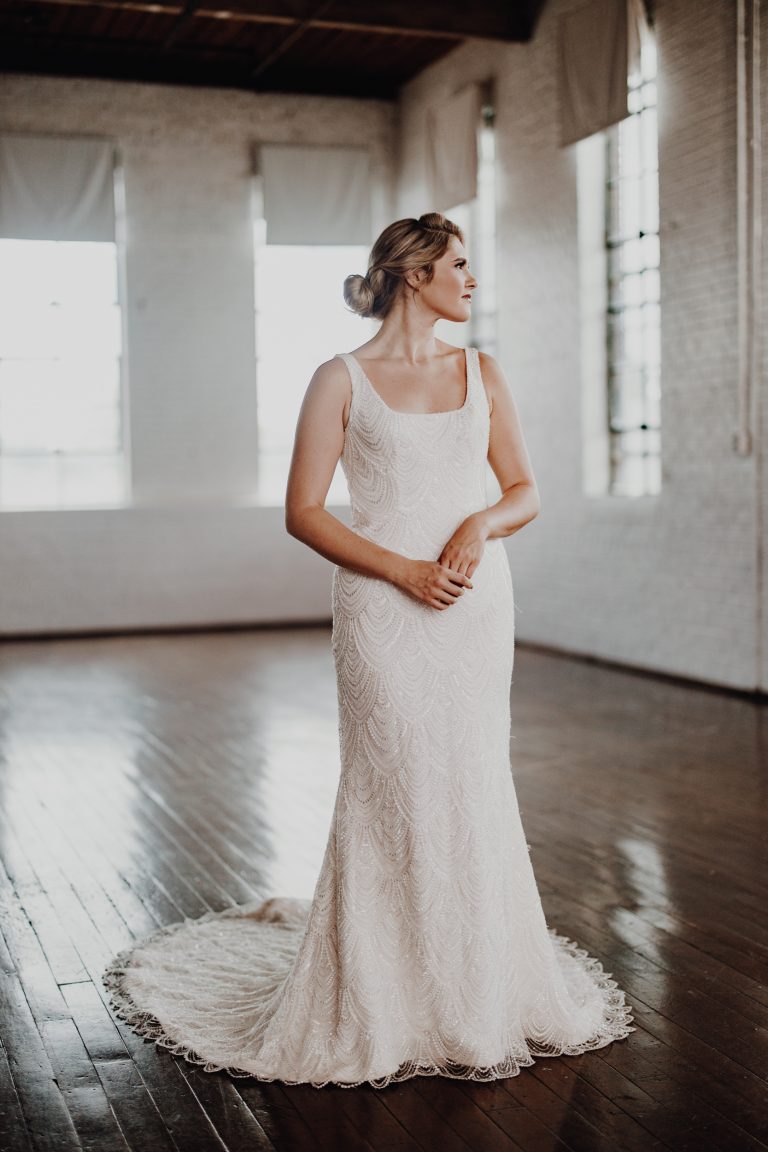 Sheath gowns fall closer to your body and naturally take the shape of your unique silhouette. The style elongates and highlights any natural curves, much like the gown shown above from our Everlasting Collection. The sheath style is the perfect choice for brides with a petite frame and tends to have a very short train (or don't have one at all). The simplicity of the sheath style dress showcases your natural figure in an elegant way. Some sheath dresses have beads or lace detailing, but typically don't have extravagant accents. This dress is excellent for any style ceremony.
Column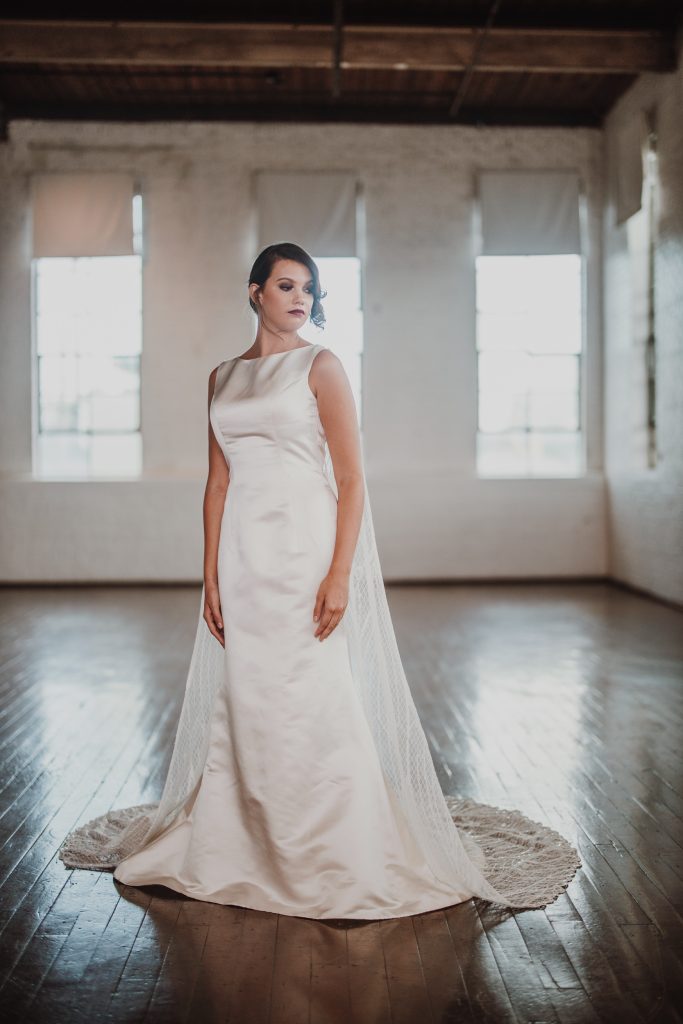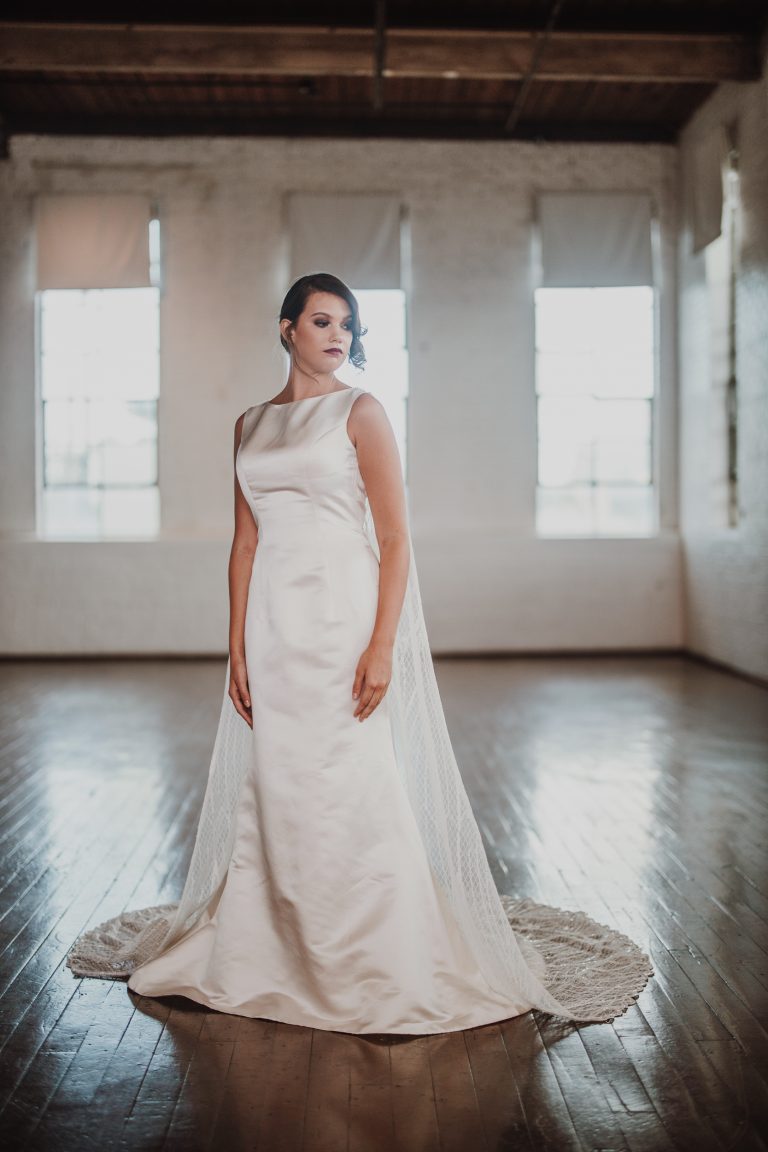 Column gowns are very similar to the sheath style in that they fall closer to your body, but they tend to be made from thicker fabric or have more layers than a sheath dress. This style elongates and highlights a sleek and slender figure. The column dress is the perfect choice for brides with a petite or slender frame and also tend to have a very short and simple train. Column-style dresses are structured with fabrics like taffeta or corded lace and are slightly bulkier than sheath gowns. Column gowns, like the one pictured from our Everlasting Collection, are sleek and elegant and perfect for any ceremony style.
As you can see, there are so many options to consider when beginning your wedding dress search. Although certain dresses tend to work better for specific body types, remember to keep an open mind because you never know what style of dress might actually look the best on you until you try them on. Dress shopping can be an exciting but overwhelming experience, which is why it's important to ensure you go to a reputable bridal boutique. At Zuri Bridal, we create an unmatched and unique experience for each bride. Schedule an appointment today for a one-on-one meeting with our design team and begin creating the perfect gown. We can't wait to learn more about your vision and help bring it to life for your special day.