5 Winter Wedding Dress Ideas & Designs
There are so many reasons why winter weddings are the best-kept secret of the wedding services industry. Prices are more affordable because it's considered off-season in certain regions like the southeast, and vendors don't book up as quickly, which means you're more likely to score your first choice for the venue, photographer, and caterer. As long as you don't mind the cold, winter weddings can actually be quite dreamy. Imagine snow dusting the grounds of your venue or flurries falling in all of your photos. Even without the snow, winter weddings have a certain level of romanticism with rustic neutrals and peaceful white flowers.
Once you've decided on a winter wedding, one of your first tasks will be finding the dress. Winter wedding styles are elegant and timeless with everything from delicate lace sleeves to luxurious fur wraps and romantic capes. We've gathered some of our favorite winter wedding dress ideas and inspiration to help you begin your search for the perfect gown.
1. Winter Wedding Dress with Sleeves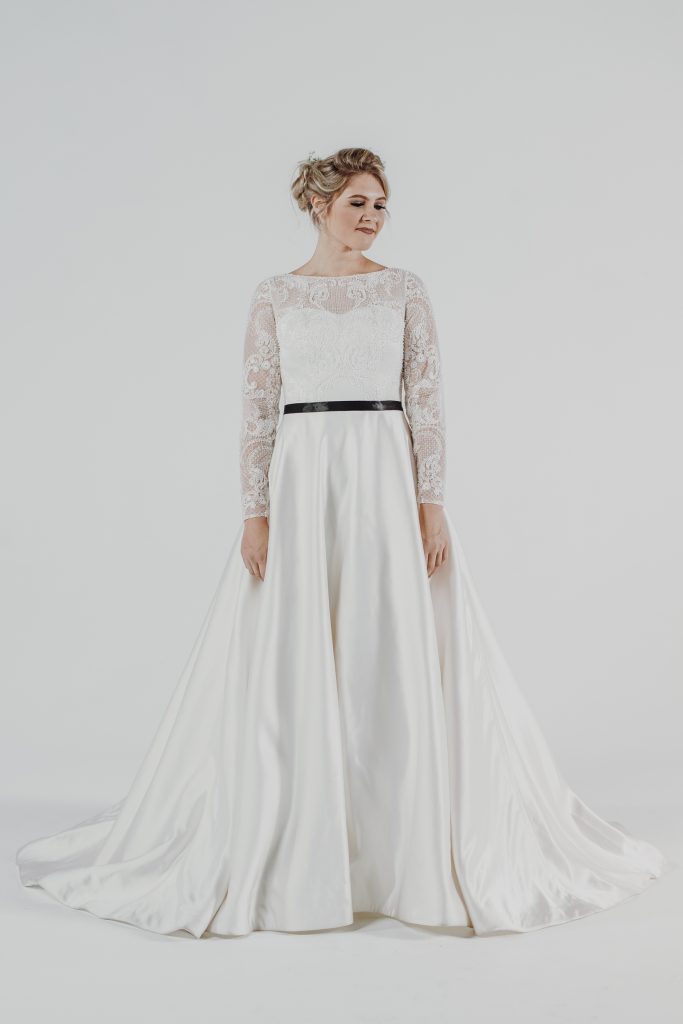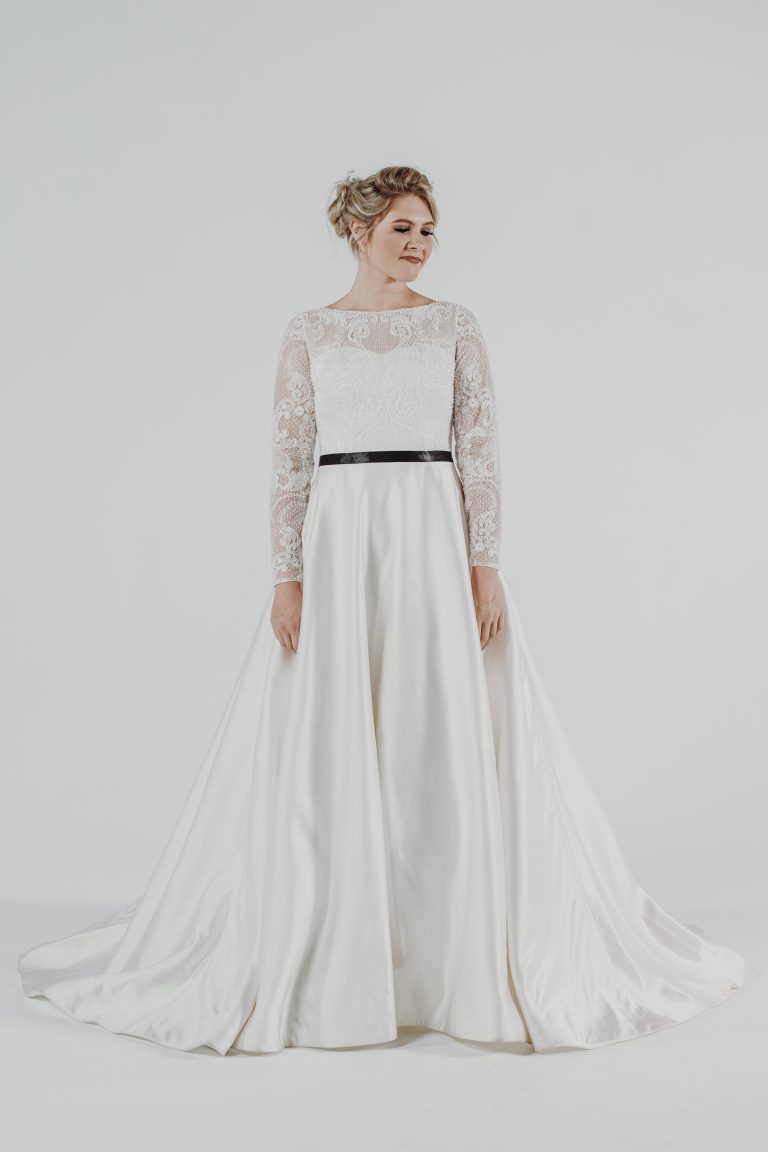 Keep your arms warm with vintage lace sleeves like the ones on our Emma Louise gown from our Timeless collection. A winter wedding dress with sleeves is a practical and elegant choice and creates a classic look that will leave both your significant other and guests speechless. Sleeves can also be made from any material and can be sheer or opaque, and loose or form-fitting. Illusion sleeves have also become popular in recent years giving the appearance of no sleeves with beaded details adorning your arms.
2. Whimsical Winter Wedding Capes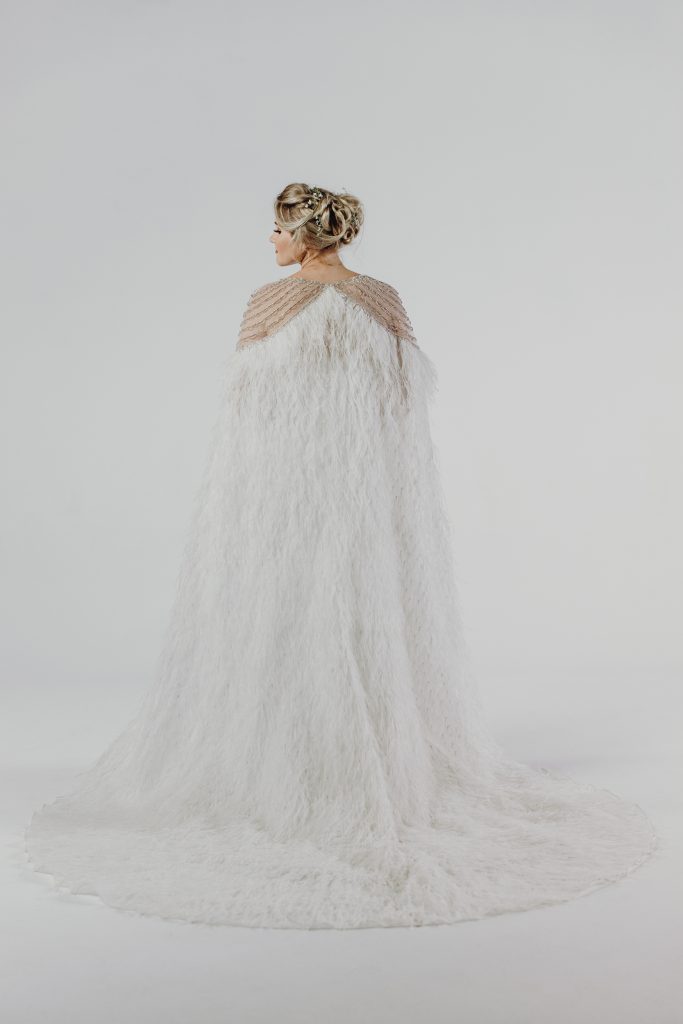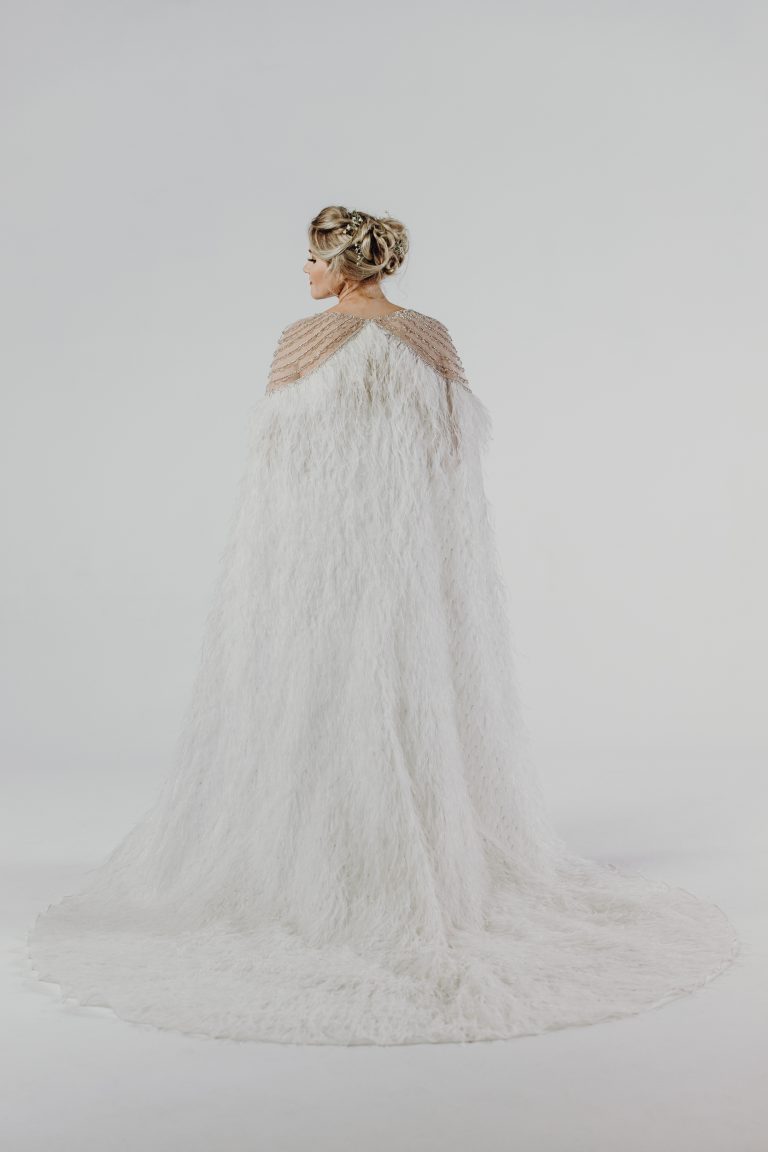 Make a grand entrance in a stunning beaded or feather cape like this style from our Everlasting collection. Perfect for winter weddings, capes are a unique statement piece that complements many different dress styles. Add a dramatic flair to your ceremony with an enchanting winter wedding cape that will also help you stay warm. You will feel like a celebrity with a captivating cape draped around your dress. We have several wedding cape options to choose from made from a variety of fine materials like satin, lace, beads, and feathers. The sky is the limit.
3. Fabulous Full-Bodied & Layered Skirts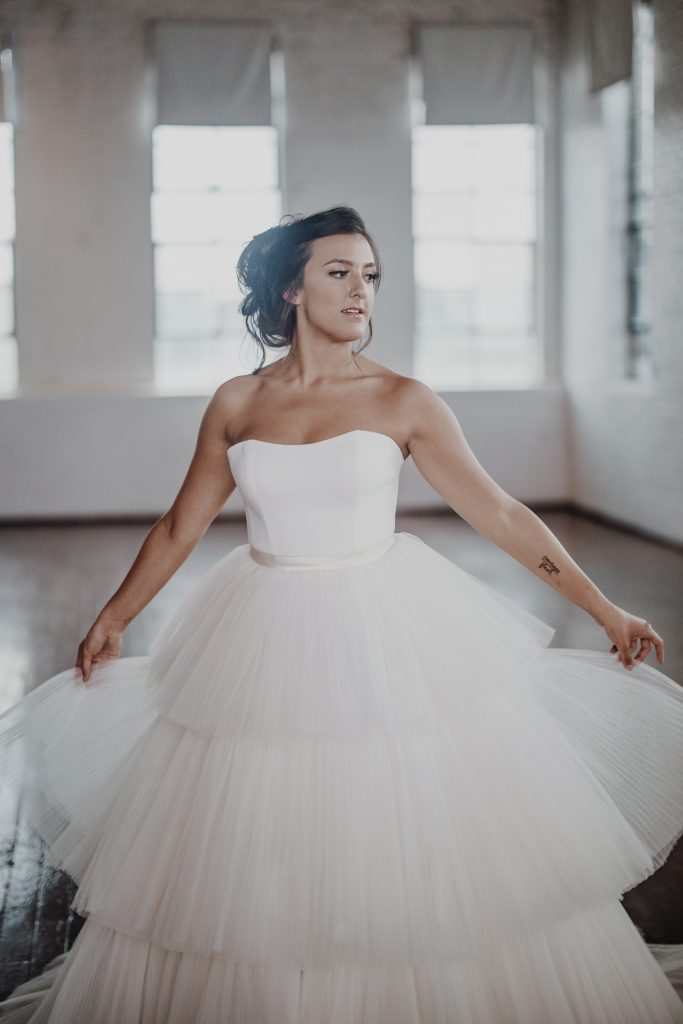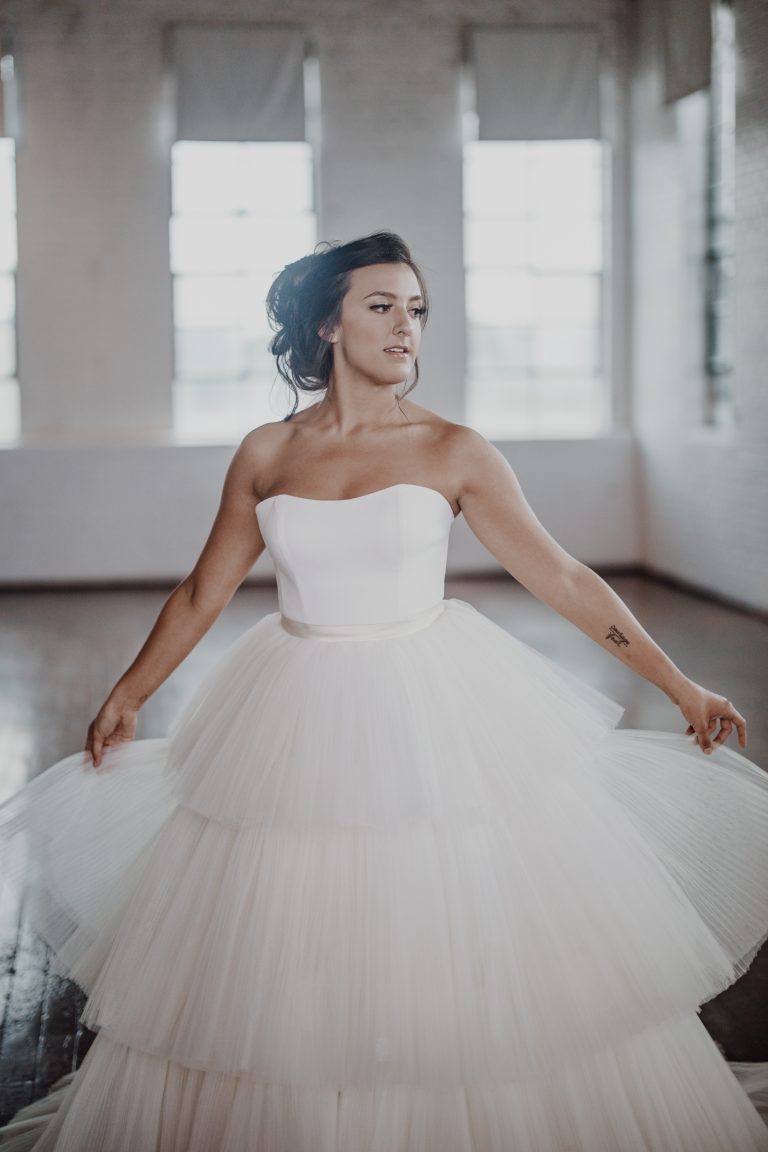 For the over-the-top, fabulous bride, we recommend full-bodied, tiered, or layered skirts. This tiered tulle ballgown is from our Timeless Collection, and sure to dazzle as you walk down the aisle. Full and layered skirts provide extra warmth during the colder months making them a great option for winter weddings – the more material, the better. At Zuri Bridal, we can also incorporate a tiered, full or layered skirt on any other wholesale gown.
4. Vintage Satin Gowns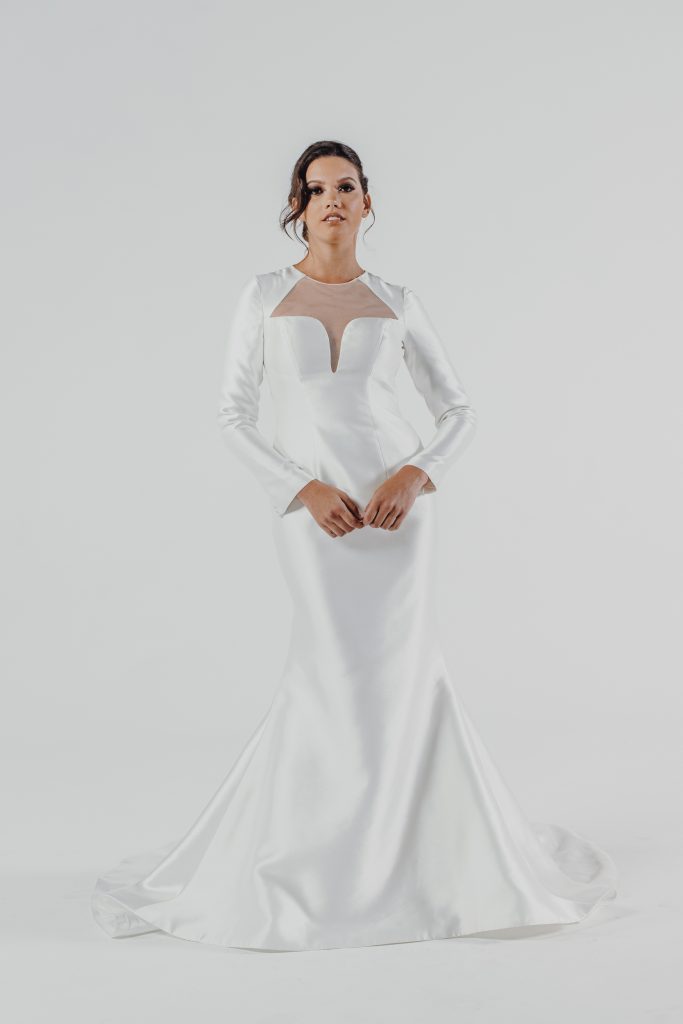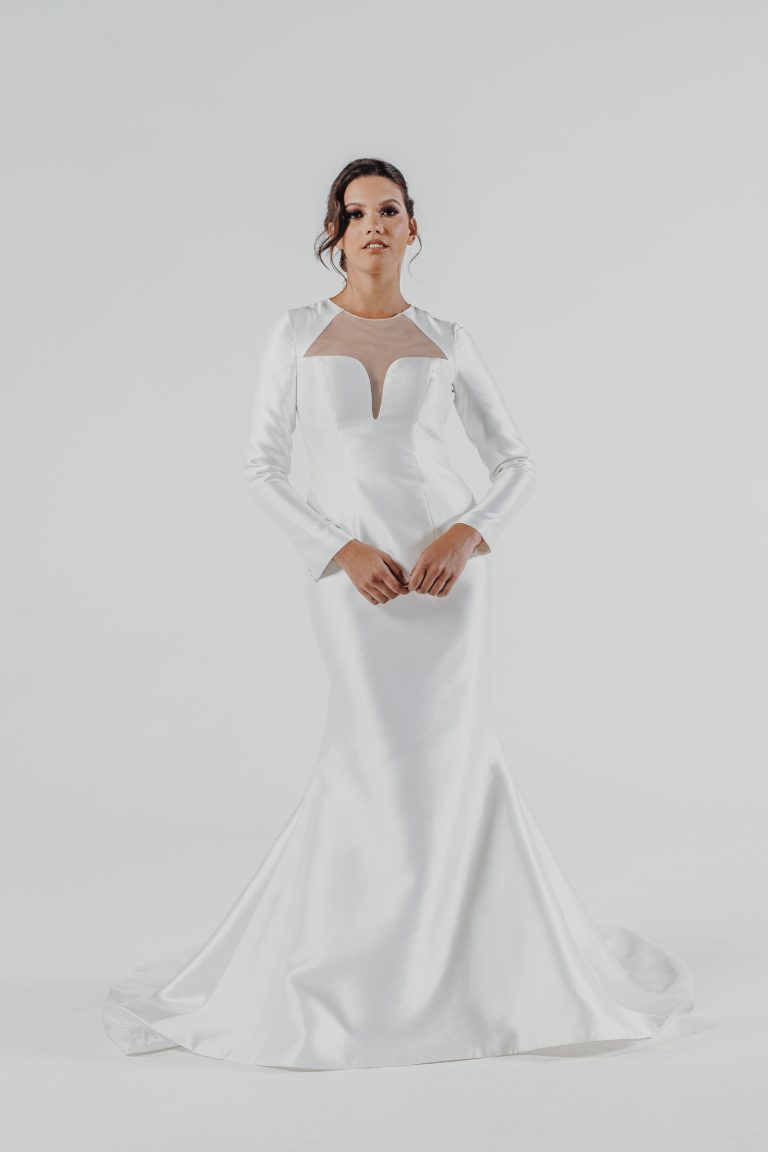 If you're leaning towards the classic look, consider a long-sleeve satin gown like this one from our Timeless collection. Satin is acceptable in any season, of course, but when paired with sleeves, we think it adds the perfect touch of vintage glamour to a winter wedding. This satin dress highlights a bride's features creating a sexy but classy silhouette. Satin adds an elegant and classic look to any winter wedding dress with sleeves.
5. Delightful Detachable Sleeves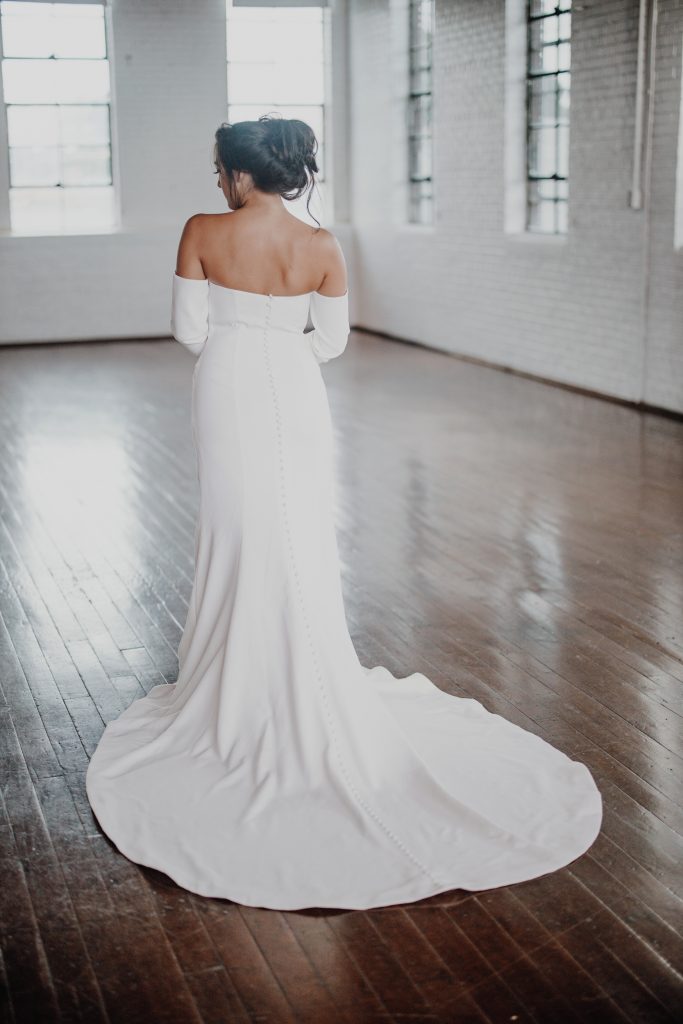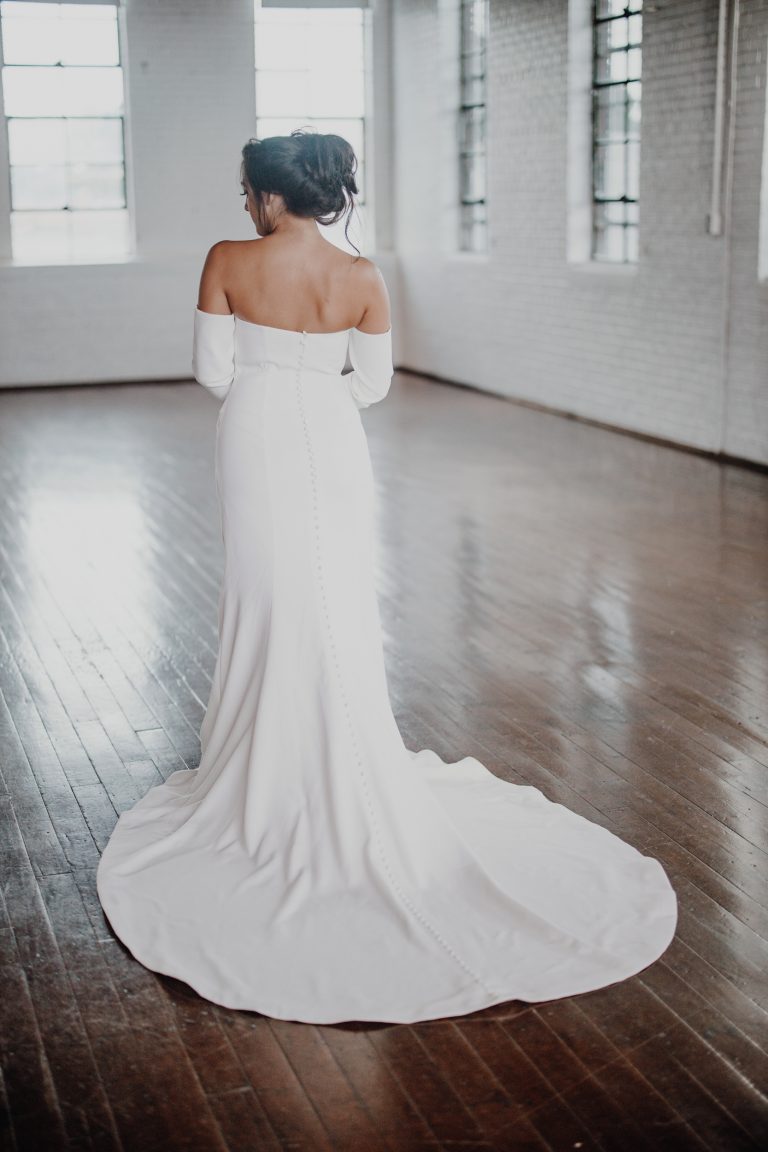 Not ready to commit to a wedding dress with sleeves? Wow your guests with detachable sleeves that create an off-the-shoulder look, but also give you the freedom to go sleeveless at any time. Don your sleeves for the ceremony and take them off for the reception. We love the versatility of the detachable sleeve trend because it truly allows each bride to customize her look with different options throughout the night. This gown is from our Everlasting collection, but we can also incorporate detachable sleeves on our custom dresses.
There are so many options to consider when beginning your winter wedding dress search. It can be overwhelming at first, which is why it's important to ensure you go to a reputable bridal boutique. At Zuri Bridal, we create an unmatched and unique experience for each bride. Schedule an appointment today for a one-on-one meeting with our design team and begin creating the perfect gown. We can't wait to learn more about your vision and help bring it to life for your special day.